Nottingham has been ranked in the Top UK Councils by Employee Growth in Beauhurst's recent report.
The report measures employee growth in companies across the UK's council areas in 2021. Nottingham was ranked 7th in the list with 5.34% average employee growth, making it one of the top councils for fast-growing companies in the UK.
Middlesbrough tops the list (10.5%) with Hackney (6.15%) and City of London (5.89%) making up the top three.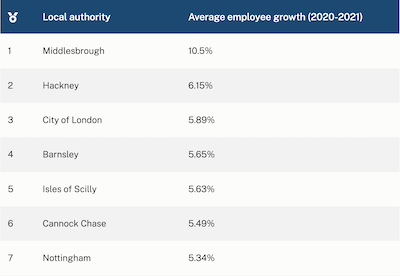 This ranking only supports Beauhurst's earlier report on High Growth Nottinghamshire, shining a spotlight on Nottingham and Nottinghamshire's top companies by growth and investment, top sectors and investment trends.
Nottingham Partners and Beauhurst are hosting an event this week (Thursday 19th January) reviewing and delving deeper into the report with a panel of experts.
More information on the event can be found here.
Related
0 Comments