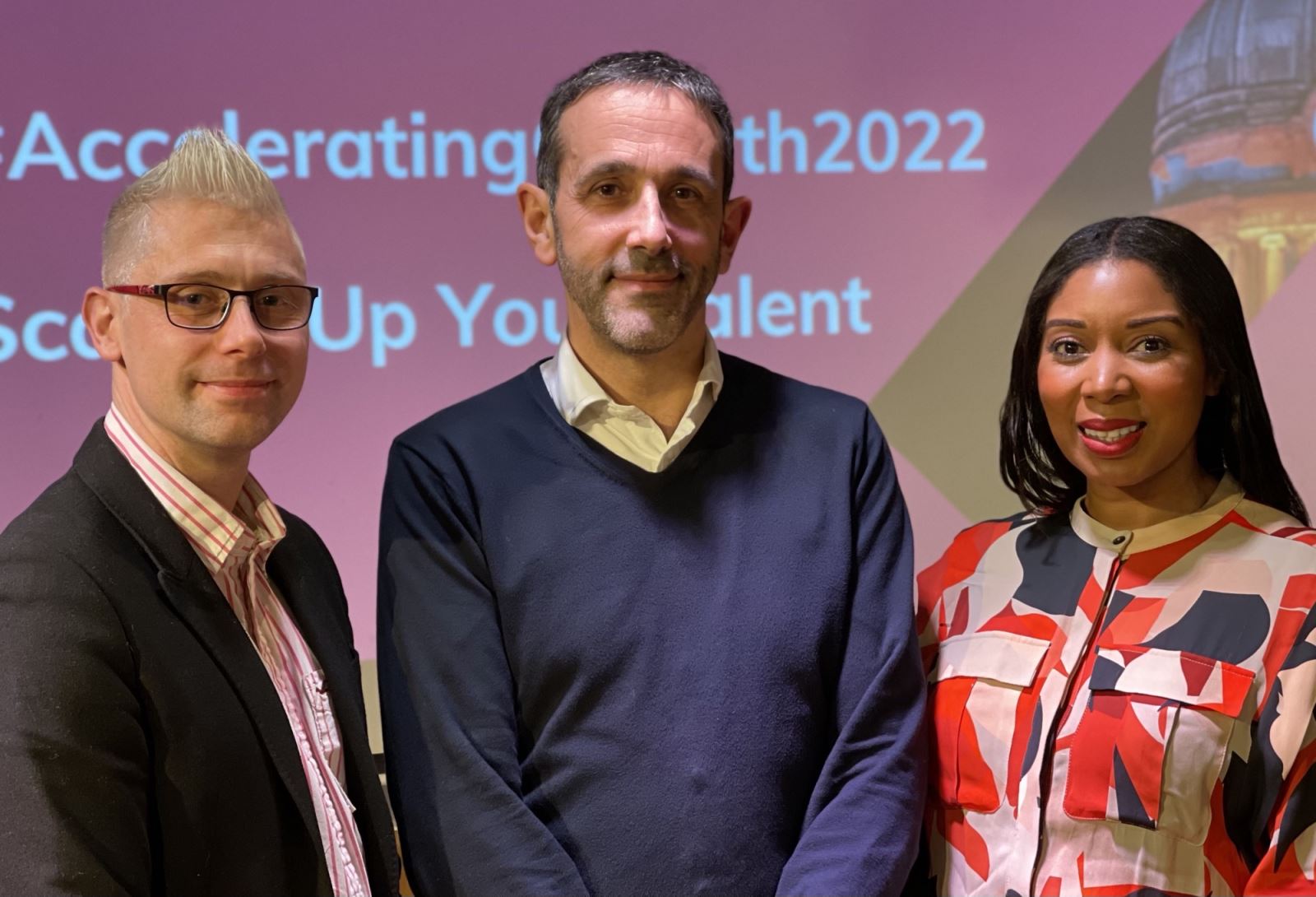 "We have a real sense of mission in the business. So we look for people who care about that" - Nick Georgiades, Managing Director, Just.
Nick Georgiades is now on his third scale-up journey in Nottingham, and he talked passionately about the lessons he's learned as first interviewee and now interviewer when he took part in Scaling Up Your Talent, the first event in our 2022 Accelerating Growth programme.
He joined Natalie Gasson-McKinley, the Development Manager for the FSB in Nottinghamshire and Derbyshire, and David Orange, MD of people consultancy Talk Staff, in front of an audience at Antenna Nottingham keen to hear insights about the challenges related to finding, recruiting and developing people who can help companies whose consistent growth classes them as a scale-up business.
In a discussion led by Richard Baker, of BakerBaird Communications, they talked about the networks you need to develop to make sure you can find good people, how employers could find ways of standing out in an increasingly competitive market for talent, and why diversity has become a key component of. business success.
Natalie Gasson-McKinley gave compelling evidence of the value of genuinely diverse workforces, while acknowledging that the change businesses need to make to properly reflect the world around them may take time.
"All the research is absolutely clear," she said. "If you build a genuinely diverse workforce, it will lead to better output."
David Orange, of Talk Staff, added: "Diversity in every sense matters to scale-ups. You need diversity of thinking, diversity of outlook. If you don't have that you are closing off opportunity, and more and more of the people we work with understand that."
The panel also fielded questions about the cost of hiring good people in a market where the pandemic and working from home has meant good career opportunities are no longer defined by your immediate geography.
Nick Georgiades concluded: "It isn't simply about cost. One of the most expensive mistakes you can make is hiring the wrong person."
The event was introduced by Invest in Nottingham Business Expansion Specialist Nicolle Ndiweni, who said: "The Accelerating Growth programme is now in its third year, and it was great to see people come together in-person to talk through one of the key challenges our scale-up businesses face.
"We're now looking forward to the second event in the series, where we have another great panel discussing Scaling Up Your Finance, and I would urge businesses to sign up as soon as possible."
The next Accelerating Growth event, Scaling Up Your Finance, takes place at Cubo Nottingham on Wednesday 30th March. Register your free place here.
Related
0 Comments