Written by Emma Smith
Marketing Intelligence and Strategy Development Manager
A week ago Ken Nettleship and I had an unusual evening outing that didn't involve restaurants or bars and yet I woke up the next day wondering whether it had really happened…
We were invited (or did we invite ourselves?!) to see the cargo operation at East Midlands Airport, which we were advised was best seen in the evening. Like most people, I normally visit the airport if I am going somewhere or dropping somebody else off, so it was peculiar to walk through the check-in hall with something else on the agenda. Security, as it should be, was tight, with all the usual checks. We were scanned, swabbed, had signatures scrutinised. It was touch and go but I was relieved when we made our way through to the 'airside' and what a surreal experience it was.
If you aren't aware, East Midlands Airport is home to the UK's largest dedicated cargo operation and the UK's number one airport for express freight. It is an effective driver for other activity in the immediate area such as the SEGRO Logistics Park which is a 700 acre development with occupiers such as Amazon taking full advantage of our central position in the very heart of the country. There are 90 businesses across the airport site employing 9,000 people, and UPS alone has just invested £138m in its new facility, therefore it is no wonder its economic impact is staggering – the operation provides approximately £1bn economic uplift to businesses in the region. And if the business case for the Freeport comes off, it is speculated that tens of thousands more jobs will be created at the hub for global trade and investment, adding value to the already strategically important regional asset.
We were driven around the site to see the operation in full swing, but that is something of an understatement. 'Full swing' was an absolute hive of activity, truly fascinating to see the sheer organisation. We learned about how priority packages are moved, about how plane choices are increasingly being made on account of their environmental impact, and how the airport as a whole is very keen to improve its green credentials. Aware that it isn't an industry known for being environmentally friendly, steps have already been made in the right direction including the installation of wind turbines, biomass boilers for the terminal, biomethane passenger transfer buses and electric tugs for the cargo, but for the future we discussed electric air travel for shorter flights. Committed to a strenuous Net Zero agenda the airport is ready to collaborate with partners to drive innovation and explore further decarbonisation.
The perimeter is 10km, providing a wonderful vista of the lights of Nottingham, Leicester and Derby. We pulled over to take note over the fence of a road sign showing routes in all directions which conveniently highlights the airport's incredible location in the country. We turned back to the perimeter road and radioed in a request to drive down the runway. Checking the runway surface and looking for articles is an important part of ensuring safety but with the lights flashing past us I was just channelling my inner John McClane. When we finished we returned to landside, to the familiar check-in hall which at that time of night was completely still and quiet, and it seemed inconceivable that we had just seen such activity on the other side. Unless it was a figment of my imagination…
For information on how to work with East Midlands Airport for cargo, advertising or passenger travel please contact emma.smith@investinnottingham.co.uk and we will put you in touch.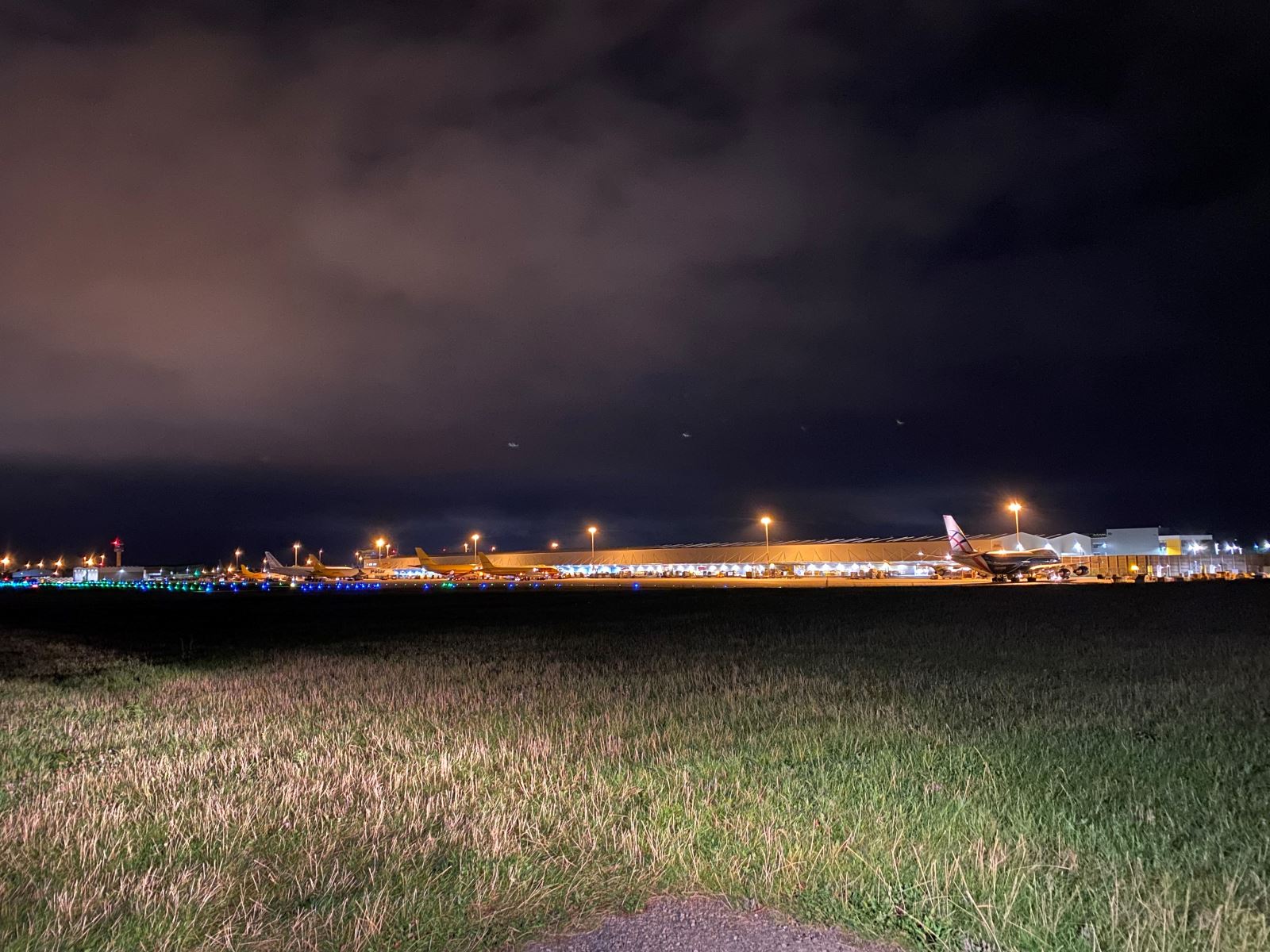 Related
0 Comments