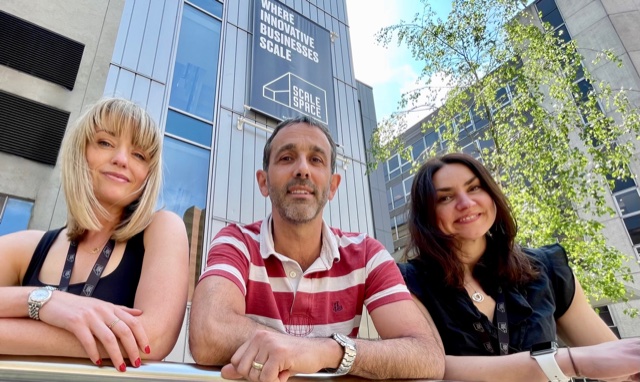 From left, Natalie Tate, Director of Operations at Just; Nick Georgiades, Managing Director; Charlotte Smith, Financial Controller, outside Scale Space Nottingham.
NOTTINGHAM'S reputation as a national centre for fintech expertise continues to rise with a new national debt solutions business deciding to grow its operations in the city.
Just, which is pioneering a new approach to debt recovery, is aiming to build a 70-strong team in Nottingham based inside the new hub for knowledge-centred tech scale-ups, Scale Space.
The business is chaired by one of the most well-known industry entrepreneurs, Jamie Waller, and led by an experienced management team that has worked in some of the most successful companies in data and financial services.
It is also part of the industry-leading credit, collections and recoveries group Arum, whose client base includes financial services, utilities, and telecommunications firms and central and local government.
Just primarily operates at the enforcement end of the debt market, where customers who have failed to make repayments to providers such as utilities or local authorities are subject to proceedings for the recovery of money, a process which may include legal action.
But it has adopted a new approach where the different parts of the process are integrated so that debtors face lower charges and money owed is recovered more quickly. This can lead to significant improvements in debt recovery and fairer treatment of debtors.
The Nottingham operations are led by Just's managing director, Nick Georgiades, whose career includes spells holding senior roles with Capital One, TDX Group and Equifax.
He explained: "Our approach is based on a simple principle – that everyone has a right to be paid what they're owed, but not at any cost. So we're using a mix of expertise, technology and integration of the enforcement process in an end-to-end solution to make sure it treats people fairly and delivers a more efficient service.
"We tailor our solutions to the markets we serve, such as utility companies or the public sector, but what is common to our approach is avoiding the escalation of fees whilst making it easier to secure early repayment."
He added: "What also sets us apart is the breadth and depth of our expertise. If you are going to deliver a new and effective solution you must have a deep understanding of how the process currently works in practice.
"You won't get anyone better than our chairman, Jamie, and the team we're building here in Nottingham is full of people who've operated across this market."
Just is now looking to build a team of more than 70 people in Nottingham over the next two years, with requirements for development and analytics expertise and the ability to develop and manage vendor relationships.
Besides its business clients, it also has a particular expertise in helping local authorities manage debt recovery fairly and more efficiently.
The company has taken a conscious decision to focus its operations at Scale Space Nottingham on Wollaton Street because of the presence of other scale-up tech businesses.
Nick said: "Nottingham's strengths in fintech and data analytics are of national standing and the calibre of businesses that we're alongside in Scale Space is second to none. They're exactly the kind of people we like, we want to learn from, and we want to help. It's the perfect community for us."
Mark Sanders, CEO of Scale Space, added: "Just is the perfect illustration of why Scale Space Nottingham is such a strong destination for disruptive digital scale-ups.
"We are delighted to welcome Just's hugely experienced team to our community of tech scaleups, and we look forward to helping them achieve their ambitious plans by connecting them to the space, the people and the expertise they need to support their growth."
Just's decision to expand in Nottingham also reflects the importance the city attaches to digitally-driven scale-ups and the strength of its fintech sector, said Lorraine Baggs, head of inward investment at Invest in Nottingham.
She commented: "We're seeing some really encouraging signs of investment and development in Nottingham right now and it's great to see the city's historic strength in tech attract another inward investment. This will bring new jobs and adds further to our reputation as a national centre for fintech scale-ups."
Related
0 Comments