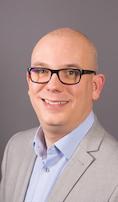 By James Mann, Business Expansion Specialist
For much of the last decade, I've spent my morning commutes walking through Nottingham city centre, looking at the multiple sites earmarked for development and hoping things would come forward, only to get frustrated at the lack of progress. Having now spent the last 11 months commuting between rooms in my house, so much has happened that I think I might struggle to recognise my city when I return!
Considering the year we all endured in 2020 and the start we've seen to 2021, it would have been reasonable to expect regeneration projects in Nottingham to have stalled, but a look at the news articles over the last few months tells a different story.
In September we had the news that planning had been approved for Canal Turn, the first phase of the Island Quarter project which, in the words of developer Conygar, "will create a leisure destination, a range of facilities and green public realm space for Nottingham city centre".
Works began immediately and this was quickly followed in January by the news that IHG have committed to bring its Indigo and Staybridge Suites brands to the site, with a detailed planning application having been submitted for the rest of the first phase of this transformational £650m development.
Invest in Nottingham has worked closely with Conygar since they took on the Island Quarter site in 2016 to help them bring it forward and navigate the local landscape, so it is great to see real progress on a site that many feared may never happen.
In December, works also commenced on the £35m Traffic Street Project, led by developer Jensco Group, which will see a 522-bed student accommodation scheme brought forward, close to the city's transport hub.
And just this week we've had the news that demolition works have started on the site of 11 Station Street, Bildurn's 51,000 sq ft Grade A office scheme, which will offer high quality office space in a prime location, adjacent to the train station.
The progress on these sites is even more welcome considering the stalled Broadmarsh development – something which could easily have knocked confidence locally. But the local response to the opportunity to come together to find a positive solution has been encouraging and it is now likely that we will ultimately get a more appropriate use for that site as a result.
The sheer amount of work currently being undertaken in Nottingham speaks volumes about the appetite for development and the confidence in the potential of the city as we move into a new decade. Invest in Nottingham will continue to work with developers to facilitate discussions, offer local intelligence and deliver city tours (as we did with Jensco in 2018), as it is important to build on this momentum.
These exciting projects follow hot on the heels of the recently completed £58m Nottingham College City Hub, as well as the HMRC's new Regional Hub, the Nottingham Castle redevelopment and the Broadmarsh Car Park and Library, all of which will be completed later this year and collectively will make a massive difference to the look and feel of this part of the city.
I can't wait to get back into Nottingham and experience this transformation first hand.
Related
0 Comments