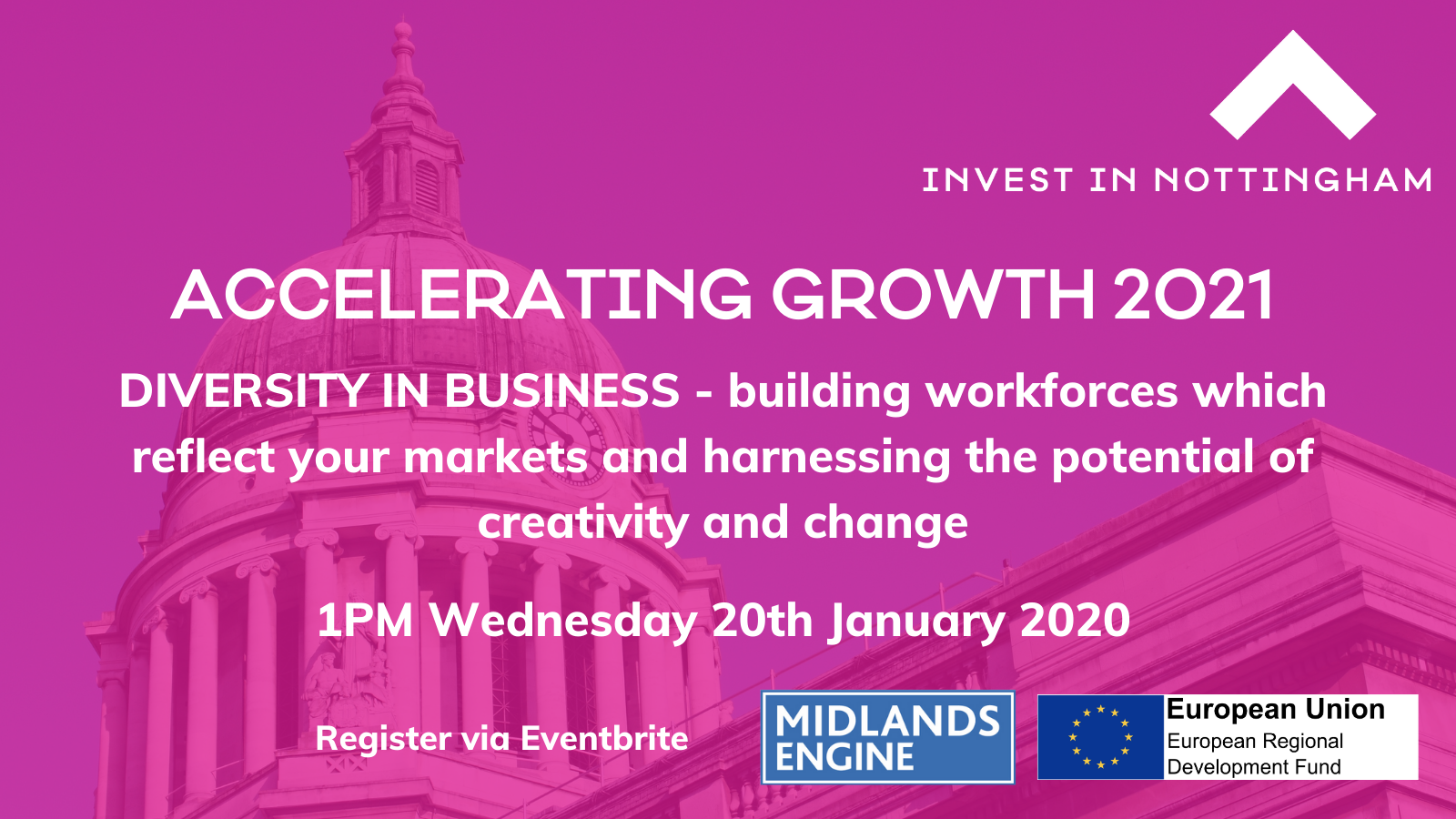 After the success of our first Accelerating Growth event, held on 20th January, one thing is very clear – shared experiences are a very powerful way of understanding how to map out the growth journey for a business.
Diversity in Business, an online event hosted by Invest in Nottingham, brought together 3 leading voices on the subject of diversity, who were able to share their knowledge and experiences to an audience of growing businesses. We were very lucky to hear insight from Debbie Bestwick MBE, the CEO of Team 17, alongside Melanie Currie, Deputy Dean of Nottingham Business School and Natalie Gasson-McKinley, Development Manager at the FSB and former branch chair of the Institute of Directors.
All three have worked hard to champion the value of diversity within business and were able to pass on simple tips and advice that could make a massive difference to scaling businesses. It was clear from the session that by embracing and embedding diversity, there are huge benefits to be reaped as your business will be more representative of your customer base and far more accessible as a workplace.
Placing inclusivity at the heart of everything was a key theme to the discussion, which was chaired by Richard Baker from BakerBaird Communications, with all speakers agreeing that by creating an environment where every individual feels welcome, comfortable and included, no matter their background or perspectives on the world, it then becomes easier to implement practical steps, including regular training and self-evaluation. It was also stated that these must be ongoing and an organic part of the day-to-day business, otherwise it is more difficult to manage issues such as unconscious bias.
Questions from the audience flowed throughout the session, with helpful hints and tips also being shared amongst delegates and it was clear that the key element to this – and to the remaining events in this series – is that shared experience is a really valuable resource when looking to implement new ideas and growth strategies within your business.
Our next session has a focus on Talent – one of the most important elements for any scaling business that is looking to grow. It is scheduled for 1pm on Wednesday 24th February 2021 and we already have Tessa Cooper, Founder at Collaborative Future, lined up as panellists. You can book your free place here via Eventbrite.
I'm really looking forward to it!
James Mann
Business Expansion Specialist
Invest in Nottingham

Related
0 Comments