A tower crane is set to be delivered and assembled at the Collin Street side of the shopping centre, where it will carry out phased demolition of the existing structure, followed by the installation of various steelwork, glazing and cladding for features such as the new Lister Gate Square access and the highly anticipated new cinema, The Light.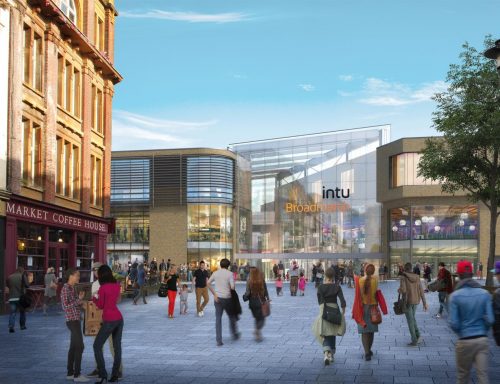 In order to safely deliver and erect the tower crane, Collin Street will be closed from the Friar Lane junction with Maid Marian Way to its junction with Middle Hill from 10pm on Friday 11 October to 6am on Monday 14 October.
The temporary closure will apply to both vehicles and pedestrians, so access through intu Broadmarsh's Collin Street entrance will also be unavailable during the weekend, reopening on Monday 14 October.
The shopping centre will remain open and clear diversions will be in place for members of the public via Maid Marian Way to Castle Gate. Visitors will then be able to enter the centre via the main Lister Gate doors.
Nottingham City Council will be putting vehicle diversions in place to keep any highways disruption to a minimum where possible, with advanced notification signage planned for the coming weeks.
Nigel Wheatley, centre director for intu Broadmarsh, said: "We're sorry for the inconvenience the weekend diversions will cause but we are working closely with our contractors and Nottingham City Council Highways Team to ensure disruption is kept to an absolute minimum. Tower Crane One is the first of two cranes we'll be using to deliver our fantastic new and improved intu Broadmarsh, with a second crane arriving early next year, although the second crane will not require a road closure.
"In the meantime, works are now well underway ahead of completion in Summer 2021. We're looking forward to more changes taking place as we create a destination with a difference in Nottingham, complementing the wider regeneration of Nottingham Southside and offering something for everyone to enjoy as they shop, work, visit and play in the city."
Original story - Business Desk
Related
0 Comments