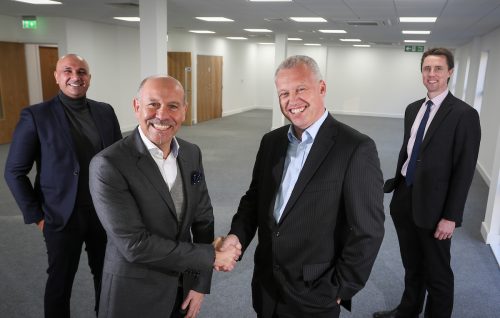 A fast-growing financial planning agency has moved into a new headquarters in Nottingham after a deal brokered by two local advisors.
Wren Sterling will move into a four-storey 10,000 sq Derby Street building before end of Q1. The building has just been through a refurbishment to leave it Grade A standard.
Finance director Andy Moss says the move brings all his staff back under one roof – after rapid growth had forced some to move into temporary accommodation, away from the firm's old offices in Castle Marina Road.
He said: "We see this location as being very attractive to new recruits, which will enable us to expand our talent pool, and this office also provides long-term capacity to enable us to continue our growth."
Landlord George Costa added: "We hope that Wren Stirling will be continue to grow their business and prosper in our landmark building, located in in the centre of Nottingham's financial hub".
The Nottingham office of property advisers JLL represented the building's landlord during the negotiations, led by James Keeton from the office agency team.
He said: "Our success within the office refurbishment market continues and we are delighted to have fully let to a single occupier, yet another high-profile city centre building. It's a classic headquarters-style building in a high-profile location close to amenities with heavy footfall and great transport connections, so ideal for both Wren Sterling's staff and their clients. The deal was concluded off-market with NG Chartered Surveyors, with the two firms utilising their market intelligence to successfully bring together the building and occupier."
West Bridgford-based NG Chartered Surveyors was asked by Wren Sterling to identify a suitable new head office.
Sunny Landa, director at NG said: "The new office is a very prominent building in the city centre, which is perfect for a rapidly-growing company. It's a superb refurbishment, making it into one of Nottingham's best Grade A offices of this size. It allows Wren to make a statement of intent about their business, gives them their own front door and sets a real market down of their faith in Nottingham as a hub to recruit new talent."
---
Article courtesy of The Business Desk.
Related
0 Comments