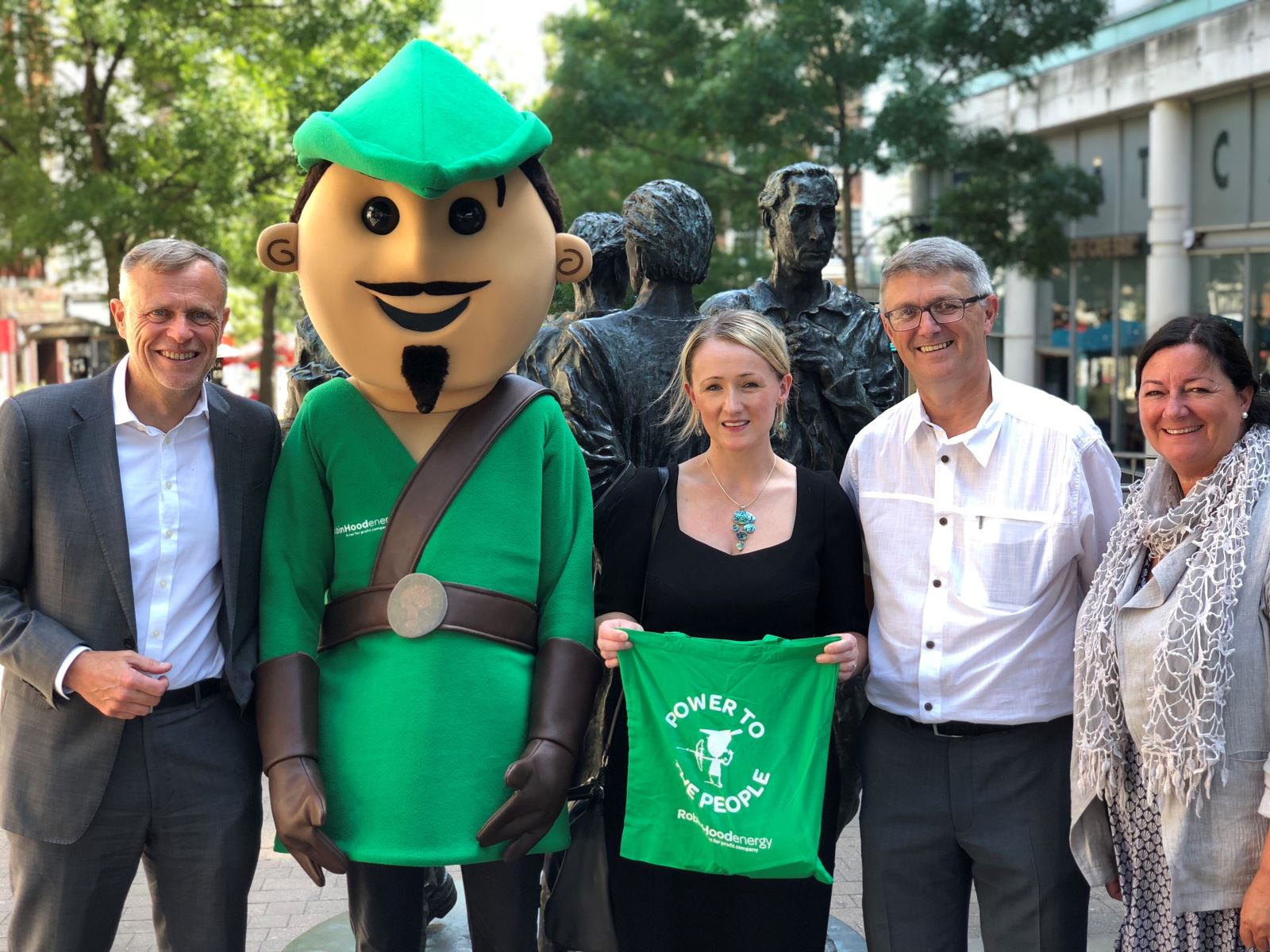 Robin Hood Energy today welcomed Rebecca Long-Bailey, Shadow Secretary of State for Business, Energy and Industrial Strategy.

The Shadow Cabinet member visited Nottingham to witness the success of the first local authority owned, not for profit, energy company which was set up by Nottingham City Council in September 2015.

Earlier this week Robin Hood Energy announced an operating surplus of £202,000. Within 3 years of trading the company has acquired over 115,000 customers and has recently been independently valued at around £30million – well in excess of the Council's original £20million investment. Most energy companies take at least 5 years to get to this stage.

Rebecca Long-Bailey said: "It's inspiring to see Robin Hood Energy making a success of public ownership and a real difference to people's lives. This is what you get when utilities are run for the many, not the few. The energy sector needs shaking up to protect people - not just make profits."

Cllr Steve Battlemuch, Chair of Robin Hood Energy, said: "We're delighted to welcome Rebecca to Nottingham today. Robin Hood Energy is proof that a new generation of ethical, not for profit, publicly owned companies can operate successfully. We are keen to show MPs and other Councils how it can be done."

Cllr Jon Collins, Leader of Nottingham City Council, said: "Setting up a local energy company, at no cost to council tax payers, has been a key Council priority. Robin Hood Energy is shaking up the energy market and giving people an alternative to the Big Six companies that dominate the sector.

"Robin Hood Energy is creating local employment, protecting prepayment tariffs for Nottingham citizens and going green to protect the planet. It's clear that Robin Hood Energy is delivering a good deal for Nottingham people."

As a not for profit company, Robin Hood Energy will use any surpluses to help vulnerable people. The company has voluntarily enter arrangements to offer the Warm Home Discount. The discount, primarily for older people, is only mandatory for energy companies to offer once they reach a customer base of 250,000.Robin Hood Energy will also be going green to protect the planet. All of their electricity will be supplied from renewable sources, certified as being provided by UK based wind and solar projects.

Steve Battlemuch said: "Going green is important to Robin Hood Energy. We're proud to be supplying electricity from certified renewable sources. As an ethical company we want to put people, and the planet, before profits."
---
Article courtesy of Robin Hood Energy
Related
0 Comments