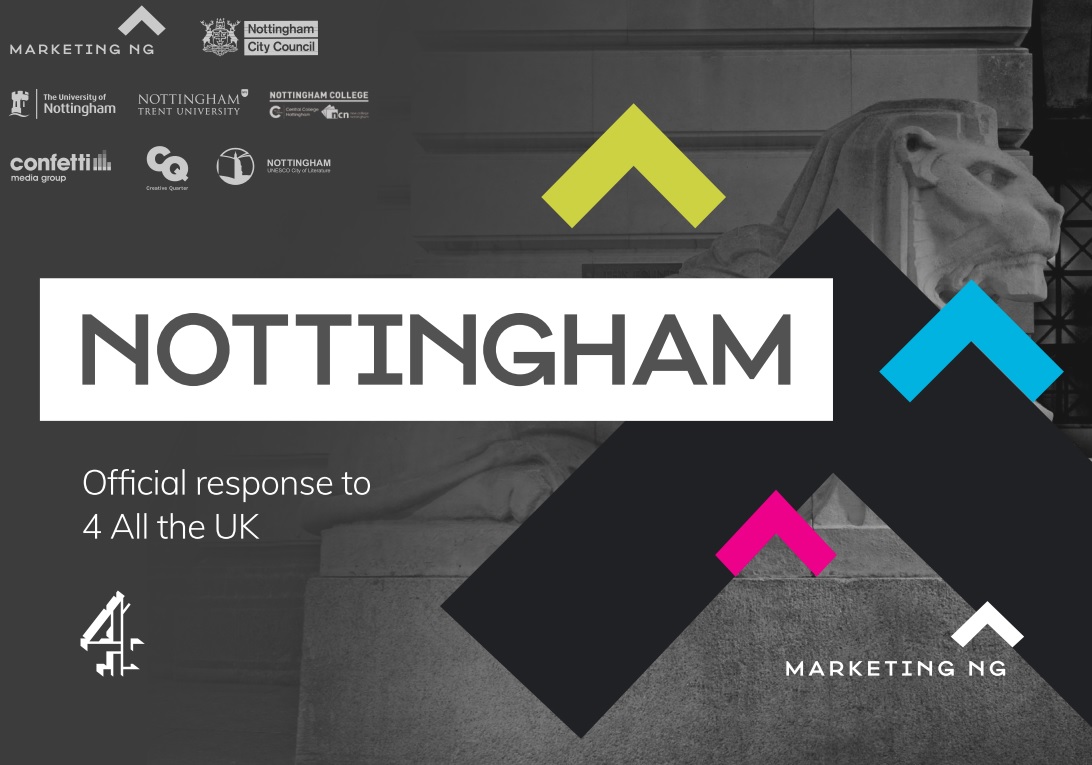 Nottingham is a step closer to providing a home for one of Channel 4's two regional Creative Hubs, with the city's bid being shortlisted by the national broadcaster, it has been revealed today.
The proposed 'Creative Hub' has been outlined by Channel 4 as having a 'focus on programme commissioning, but will welcome a broader talent base as we develop our plans and deepen our commitment in the Nations and Regions'.
Nottingham's bid joins Belfast, Brighton, Newcastle-Gateshead, Sheffield and Stoke-on-Trent in the running with the final selections being revealed in October. A delegation from Channel 4 will also visit Nottingham in late June.

Cities shortlisted for the National HQ could also host a Creative Hub, these are: Bristol, Cardiff, Glasgow, Greater Manchester, Leeds, Liverpool and the West Midlands.
Nottingham City Council Leader Councillor Jon Collins said: "We made a strong case for Channel 4 to come to Nottingham so it's great that they're considering Nottingham as a possible location for a Creative Hub.
"We have a growing and vibrant creative sector which means that we'd be a great fit for Channel 4. A move here would be good for the City and we'll now be making the case for Nottingham ahead of the other shortlisted cities."
Brendan Moffett, Chief Executive of Marketing NG, said: "We're proud and thrilled that Nottingham's ambitious and transformative bid has made the shortlist against fierce competition from across the country. Over coming weeks we will strive to further illustrate as to why Nottingham is the right location for Channel 4 to achieve its aims."
Professor Shearer West, President and Vice-Chancellor, University of Nottingham, said: "This is excellent news for Nottingham. I have no doubt that when they visit next month, Channel 4 will see the richly creative environment and the spirit of innovation that we offer."
Professor Edward Peck, Vice-Chancellor of Nottingham Trent University, said: "We're incredibly pleased that Nottingham has been shortlisted as a Creative Hub for Channel 4. This is an exciting step forwards which recognises Nottingham and the East Midlands as home to many innovative businesses and as places where creative things happen.
"NTU has been producing graduates who make valuable contributions to the creative industries since 1843. I am sure that Channel 4 would benefit from the skills, imagination and creativity that the staff, students and alumni of the university and Confetti Institute of Creative Technology bring to the City.
"A Creative Hub would benefit NTU, the City and region enormously and I am sure it would thrive in the fertile environment of Nottingham."
Stephen Barker, Chief Executive of Creative Quarter Nottingham, said: "It's great news that Nottingham's potential has been recognised by Channel 4. The city's creative economy is strong and growing fast. Its creative community is inventive and collaborative. There is no better location for a Channel 4 Creative Hub."
Penny Linfield, Head of Spool Films, of the city's leading post-production facilities said: 'We are thrilled that Nottingham has been shortlisted as a potential Channel 4 Creative Hub. Nottingham has long been the home to exceptional creative talent, and we already boast outstanding educational pipelines of emerging talent and world-beating facilities and locations.
"Having Channel 4 in Nottingham will be beneficial to so many companies like Spool and other businesses that could support their presence in the city. We look forward to supporting the bid team in the next stages in the process."

The bid has been led by the city's place marketing organisation Marketing NG in partnership with Nottingham City Council and involving the University of Nottingham, Nottingham Trent University (NTU), Nottingham College, Confetti Media Group and Creative Quarter.
The bid, which has received support from many of the city's creative leaders including Vicky McClure, Shane Meadows and Jonny Owen, details the city's growing digital and creative sector, which currently contributes more than £4bn to the regional economy and employs nearly 50,000 people.
---
For more information about Nottingham and why to invest click here.
Related
0 Comments