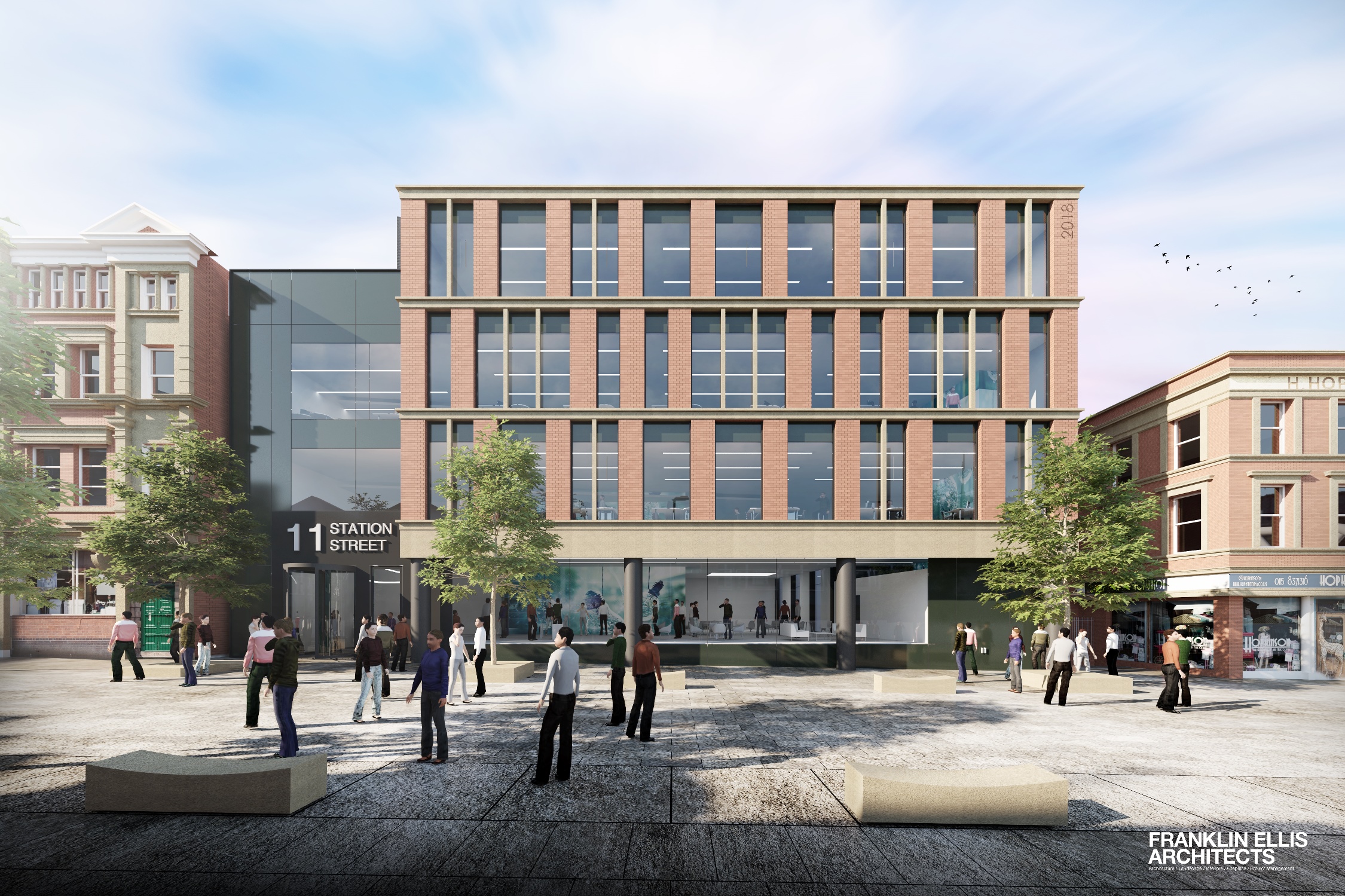 The long-awaited planning application for high spec office space on Station Street in Nottingham has been submitted this week by the developer Bildurn.
The urban developers plan to create 50,000 sq ft of flexible grade A office space with an accompanying roof garden for prospective tenants. The development will also include residential accommodation, including homes for students.
The site, which is over an acre in size, is a prime location, situated opposite the entrance to Nottingham's train station. If approval is granted by Nottingham City Council then work could begin as early as this September.
Sean Akins, managing director at Bildurn, said: "We're thrilled to be able to submit a comprehensive planning application to Nottingham City Council for Station Street.
"For many visitors to Nottingham, these buildings are the first that they see when they step out of the train station – and as our images show, our vision for the site is quite dramatically different to what has stood there for years previously.
"Our scheme will see Grade A offices and high quality residential accommodation reinvigorate the first approach to our city centre, regenerating a large chunk of currently disused and unattractive space in this prime location.
"Following completion of demolition, the residential phase is planned to start in September of this year, followed by the construction of the office block next door."
---
Four Nottinghamshire businesses have been listed in the top 15 of the 'East Midlands Top 200 Report 2018' published this week by the regional office of business and financial advisers Grant Thornton UK in partnership with the CBI.
Collins Earthworks, a contractor in Kirby-in-Ashfield, is Nottinghamshire's fastest growing business for the second consecutive year and is sixth in the listings overall in terms of employment growth.
Also in the top 15 on the list for profit growth are Blinds 2 Go in 12th, Warsop transportation service Bowring Transport at 13th, and furniture manufacturer Whitemeadow Group of Sutton-in-Ashfield in 15th.
The 60 Nottinghamshire companies represented in the report have shown a combined average profit growth rate of 33.2%.
The 200 East Midlands companies in the official report have a combined annual turnover of £15.3 billion, show an average 14% growth in annual turnover, 35 percent average growth in profit, have an average operating profit of £1.8 million and profit margin of 12%.
---
Thomas Bow, which has been based in Nottingham for over 150 years has won a contract worth around £20m from Highways England.
The deal secures the company a position on a four-year framework to provide road surfacing services to major upgrades on roads across the Midlands and East Anglia.
---
A second new building has been given planning permission on Nottingham Trent University's Clifton Campus. The 23,000 sq ft building will include facilities for the university's Institute of Industrial Digitalisation and Robotics.
---
For more information about Nottingham and why to invest click here.
Related
0 Comments