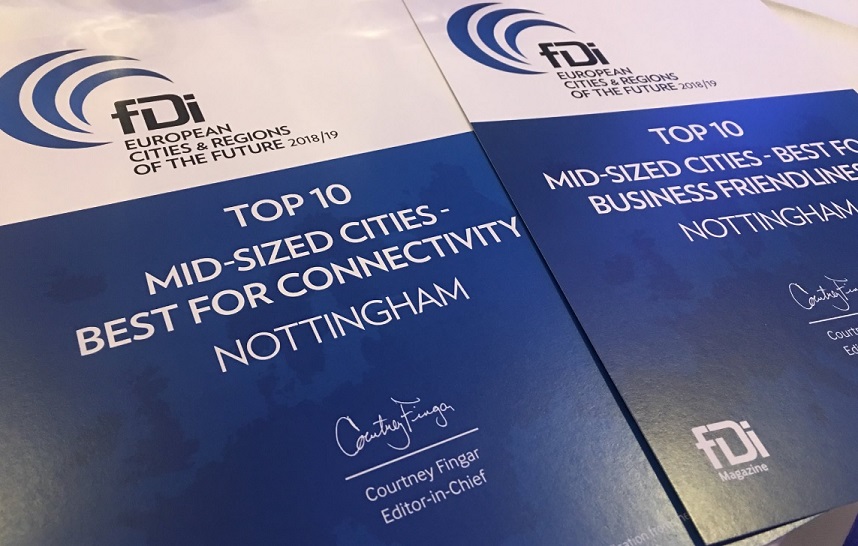 Nottingham has scooped two international awards for the way it encourages connectivity and cooperation between businesses at fDi European Cities and Regions of the Future Awards.
The city was placed 'top 10 in mid-sized cities for connectivity' for its significant investment into the local transport infrastructure – including the expansion of its award-winning tram network.
As well as the one of the UK's best public transport networks, the region's motorway access ensures that most of the UK is accessible within four hours.
East Midlands Airport also offers daily flights to many European business hubs and beyond and is the UK's busiest cargo airport, allowing businesses to operate at an international level from a Nottingham base.
Nottingham also scooped 'top 10 in mid-sized cities for business friendliness' – ahead of cities including Sheffield and Newcastle respectively.
The coveted awards were presented today at a prestigious ceremony at MIPIM, the world's largest property showcase.
Paragon Interiors Group is one of the businesses travelling to MIPIM as part of Team Nottingham in 2018 and business development associate Amy Revell says she isn't surprised to see the city named as one of Europe's friendliest.
She said: "We're at MIPIM for the first time this year and signing up to Team Nottingham has really helped us to plan, prioritise and make the most of this fantastic opportunity. The whole of Team Nottingham has been incredibly welcoming – so I am not surprised to hear that Nottingham has made this prestigious list."
fDi Intelligence is a major division of the Financial Times Ltd, specialising in all areas relating for foreign direct investment and investment promotion. It is the largest FDI Centre of Excellence globally.
Related
0 Comments